"Do-It-Yourself Acupressure" Kit
Featuring Quantum Infused Holograms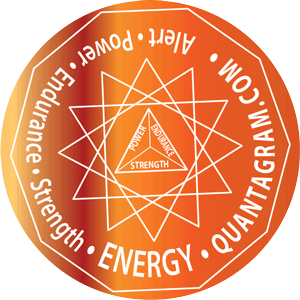 LOW ENERGY IS A BARRIER TO SUCCESS…
Almost everyone would like to have more energy at some time or another. Many turn to drugs and stimulants to increase power, only to end up increasing their heart rate, thus, possibly causing significant health risks.
According to the US Institute of Health, Men 18-34 consume the most energy drinks, and almost 1/3 of teens drink them regularly. Just one 16 oz container of most energy drinks contain 54-62 grams of sugar, exceeding the maximum amount recommended for an entire day.
Fortunately, with the help of acupressure and our Quantum Infused QuantaGrams™, we have an answer for you.
The Energy QuantaGrams™ is targeted not only for general well-being and everyday life, but we've also included specific instructions and placements for sports activities. Whether it's an everyday activity, running, jogging, powerlifting, or any heavy workout, this is the product for you.
With the help of the ancient Chinese art of acupressure, the body's "Chi" or energy can be enhanced, which helps with blood flow and balance. Acupressure is believed to stimulate the body's natural healing mechanisms, promote blood flow, and release tension in the muscles. Research has suggested that it may be effective in increasing energy in the body.
Our QuantaGram™ products have over 15 years of research, testing, and development. Energy QuantaGrams™ contain a proprietary formula of herbal and earth frequencies that not only assist the body with energy but helps support the body's general sense of well-being when placed on or near the acupoints along the meridians of the body.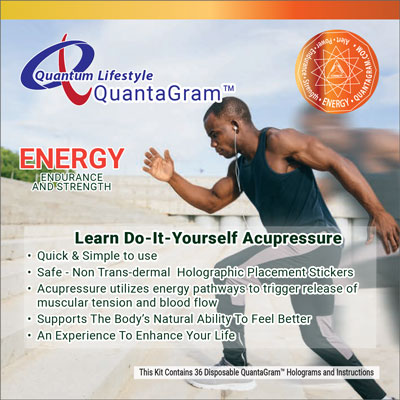 Each "Do-It-Yourself" Acupressure Kit contains 36 disposable self adhesive Quantum Infused QuantaGrams.
Also included are detailed instructions for placement on or near acupoints best to support your desired result.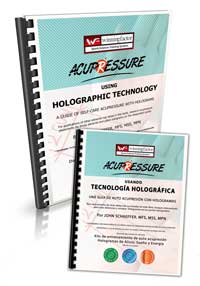 Exclusive book about holograms and acupressure
ACUPRESSURE USING HOLOGRAPHIC TECHNOLOGY
Written by John Schaeffer, Sports Scientist, Trainer of Pro Sports and Olympic Athletes. English and Spanish version.
Read More…